EDITORIAL FEATURES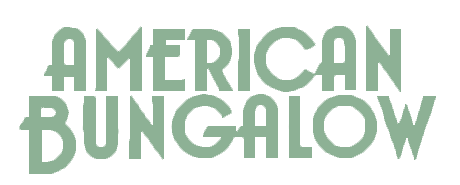 American Bungalow's "Arts & Crafts Profile"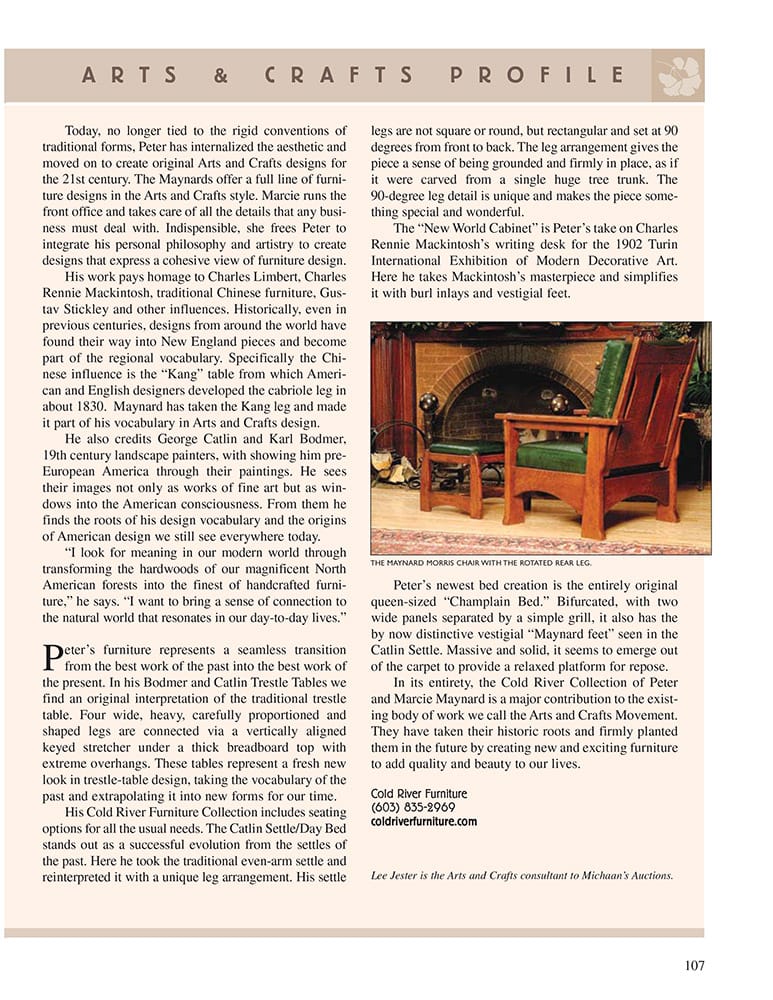 American Bungalow's "New and Noteworthy"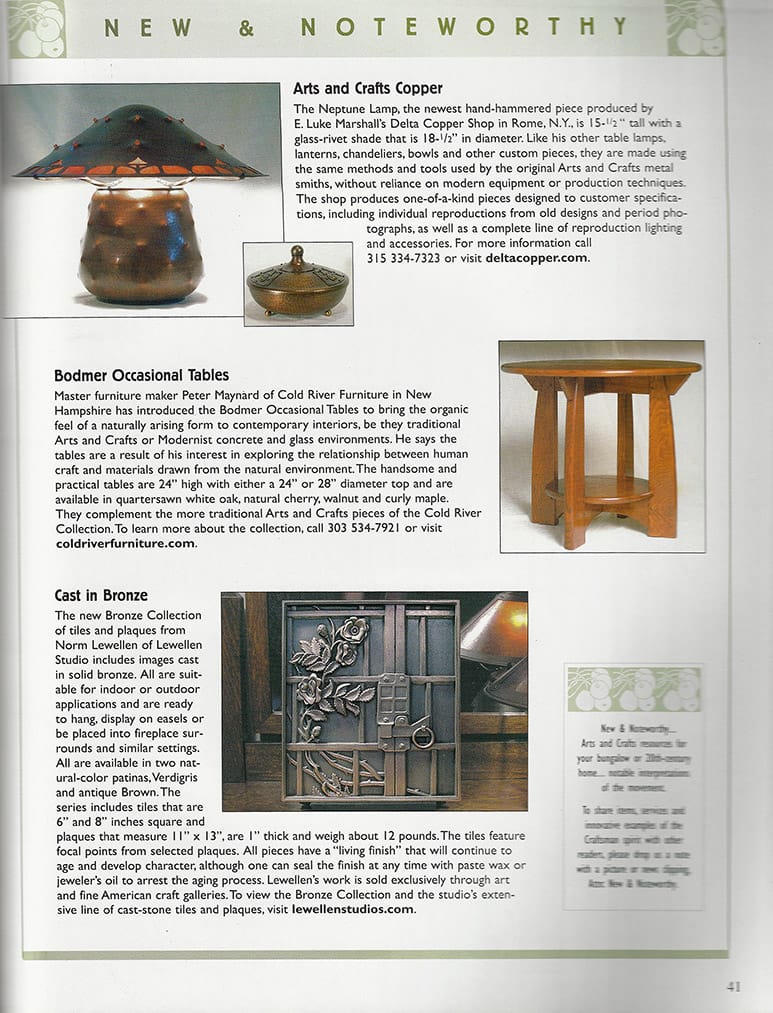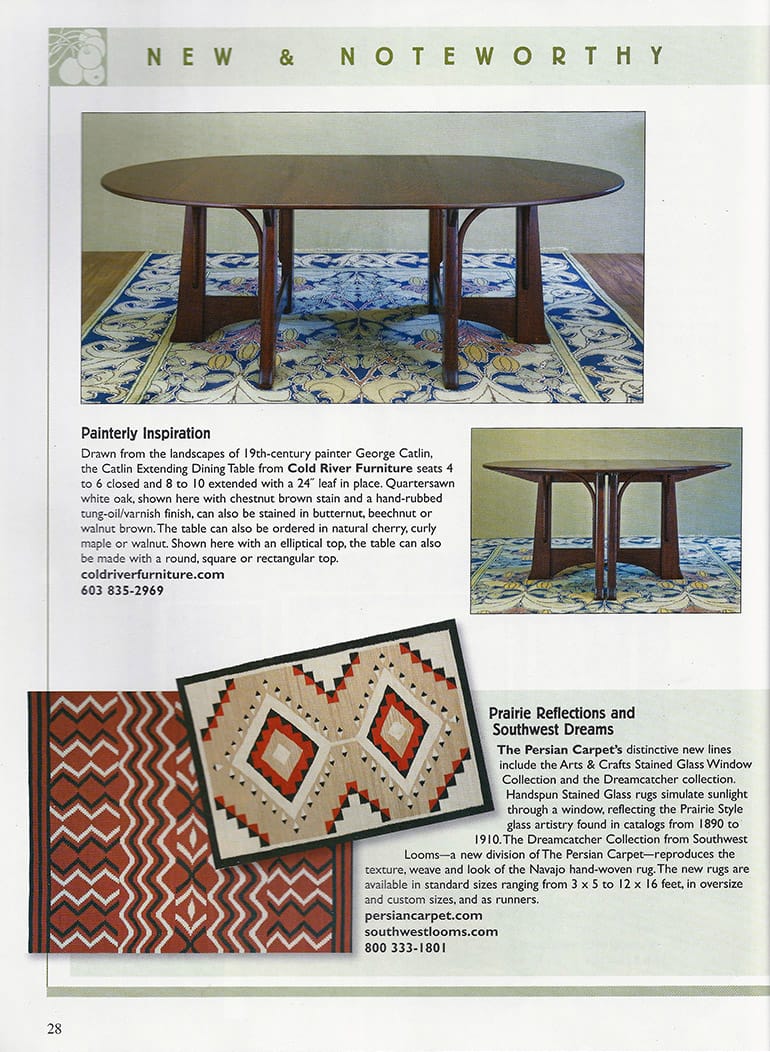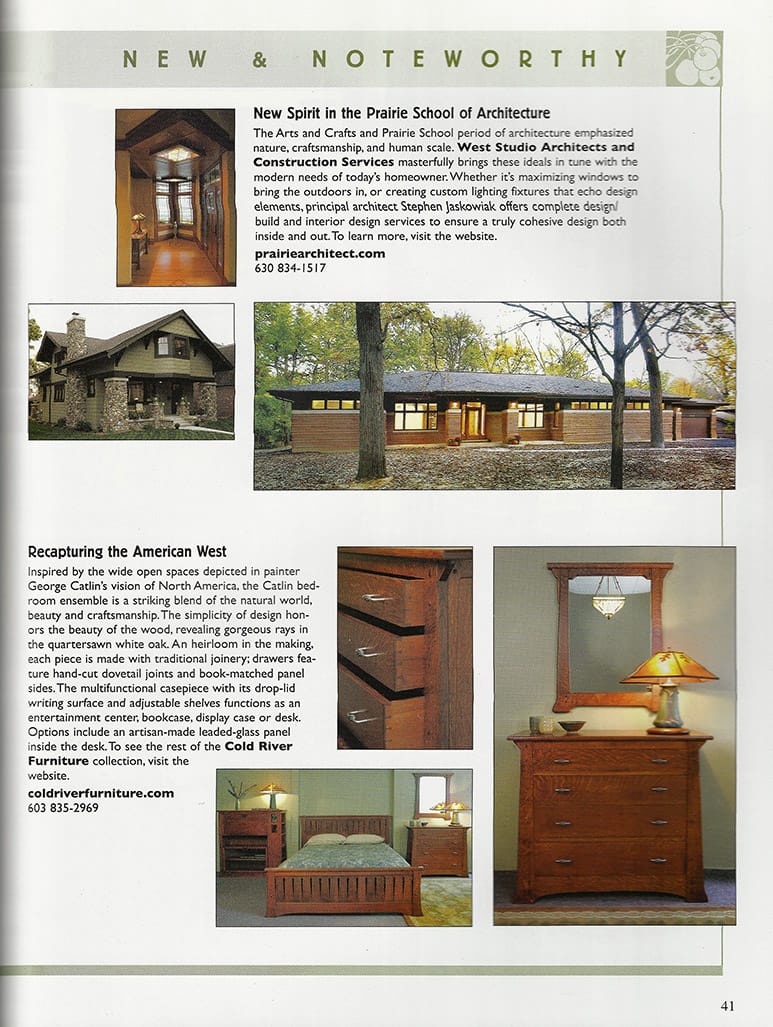 Traditional Home magazine presented Peter's furniture in an article titled: "20th Century Masters: Five of the Country's Best Furnituremakers."
Traditional Home
The 20th Century Masters: Five of the country's best furnituremakers
by Dan Weeks
We started with a question: Can furniture rivaling the finest antiques be found in the workshops of contemporary American artisans? We were looking for pieces that help tradition evolve, that express both a cultural heritage and a personal vision, that carry the highest standards of aesthetics and craftsmanship. We found them: stunning examples of fine furniture by anyone's measure.
And we found something more. In reviewing the work of dozens of woodworkers, and visiting the shops and homes of the five artisans whose diverse work appears here, we discovered that commissioning new work by today's masters is at least as satisfying as pursuing rarefied antiques. Here lies the chance for a relationship not only with a piece, but also with its maker; a chance to involve yourself with its conception, and to witness its creation.
Peter Maynard is a virtuoso in a broad range of traditional European styles-and the nuances of their regional American interpretations. His market is largely New York.
Yet he is above all a New England craftsman, a Yankee in manner and training, a disciple of a working philosophy that built some of the finest furniture we know. It is a small-shop, small-town ethic based on a closeness to nature and to one's clients, a self-sufficiency in seeing a piece through from standing tree to delivered goods, and the resulting sense that one person's creativity, commitment, and ingenuity matters.
"I grew up in Middletown, Connecticut, and apprenticed in a small furniture shop there. John Whitmore and his 75-year-old father, Chauncey, had been running their shop since 1919, and it still had one foot in the thirties.
"I swept the floors and watched the old guys work. The best part was deliveries, returning restored antiques to vintage houses. John knew Connecticut, and as he drove the truck, he'd bring the history and architecture of those little towns alive."
John would feel right at home in Peter's shop. Peter built it himself on an old foundation behind his farmhouse in the remote hills of western New Hampshire. Boards of native cherry and oak are drying underneath; machines salvaged and restored from old woodworking mills stand ready.
Peter attributes both his understanding of period furniture and the inspiration for his own designs to addressing the diverse tastes of his clients. "I'd work on a piece in a certain style, and I'd fall in love with it. I'd read everything about that style I could find. Boston, Philadelphia, Newport, Charleston, New York—they all left their regional signature on period furniture. I feasted on that stuff, and that love of history all expressed itself on the drawing table and out in the workshop."
In his current work, boldly incised inlay and marquetry float crisp, neoclassical motifs on shimmering New England hardwoods. Original designs exhibit the kind of intuitively clean lines and elegant proportions that can come only from much study, care, and well-earned confidence.
"The latest influence that I want to integrate into my work is the pre-World War I European style," he says. "It was the last expression of old Europe and it is really classic stuff. Even though a lot of it came to America, it is still relatively undiscovered."
Peter's virtuosity and scholarship attracted the offer of a teaching position in furnituremaking from a major university recently. In some ways, it was tempting.
"Sometimes I feel like a Pakistani gunsmith in the Khyber Pass," Peter says with a wistful grin, gazing out the dusty window of his shop at the sweep of the ridge behind his house. "I'm covered with dust, doing everything by hand. You try to be reflective enough to be creative, and productive enough to make a living."
But Peter also knows that that mix of isolation, personal expression, and sensitivity to the marketplace is what created the regional styles he so admires. Amid the dust and the hills and the scent of drying wood, he is forging his own.
Abruptly, he suggests going for a ride. We climb into his station wagon. Peter's wife and business manager, Marcie, and their two young daughters come too. As we wind up steep grades past picturesque, 18th-century farmsteads, Peter narrates the history of this little valley. At the ridgetop, the view is panoramic: all New England seems beneath us. "This never has been an easy place to make a living," Peter says quietly, pointing out overgrown farms and old foundation sites. "But this is my New England up here; this is the place I've taken my stand. I'm going to stay
"There is a resonance to handmade stuff—where one person has stayed with the piece from beginning to end— that is unmistakable. I've based a 20-year career on that point of faith." — Peter Maynard
Featured in the cover story of Woodwork magazine, "Adventures at the Edge: The Work of Peter Maynard."
Woodwork
Adventures at the Edge: The Work of Peter Maynard
by Robert Smith
"It's like jazz," Peter Maynard explained, describing his feelings about woodworking. "You need to be prepared to improvise. Woodworking isn't about making the same piece over and over again. There are innovations, new ideas, seeing if things work. Wood is an unpredictable material, but I like that. It sounds dramatic, but that's what happens for me everyday."
Maynard was replacing the knives on a Bridgewood long-bed jointer as we talked in his Acworth, New Hampshire shop. Caught up in his passion for woodworking, he forgot the jointer for a minute."
That's not something a master craftsman can teach you," he continued, gesturing with the blade in his hand to emphasize his points. "You have to learn how to give things a little time and see how they work out. You'd think that by now I'd be jaded by it, but the wood- working side of it, the learning and the innovation, that part I've not tired of. That keeps me excited."
Maynard, slim, handsome, and a youthful 44, has been designing and building furniture for 25 years, most of it on his own. Even a quick look through his sizable portfolio of work—ten to a dozen major pieces every year—reveals his versatility and mastery of the craft. From the very modern, flowing design of a wave-inspired rosewood and glass tea cart to the classic lines of a mahogany English Sheraton chair, from the intricate wooden lattice on the apron of a Chinese table to the straightforward but elegant joinery of Mackintosh-style dining chairs, Peter Maynard's furniture reveals remarkable skill and a willingness to work with the whole rich history of his craft—from the ancient to the cutting edge.
For Maynard, furnituremaking isn't just about materials and techniques, it is also very much about ideas and experimentation. He draws on an in-depth knowledge of the history of his craft, combined with an ability to apply that knowledge in an intensely personal way.
And his work is appreciated by his peers, having been featured in articles in Architectural Digest, Traditional Home, The Boston Sunday Globe, Interior Design, Colonial Homes, and Home Furniture.
To be able to design and build beautiful pieces from any period, classic to modern, is a matter of personal pride for Maynard, and the result of years studying the history of furniture design on his own. In the portfolio of work he's built over the years are examples of English Sheraton, Hepplewhite, classical Chinese, Federal, Shaker, Arts and Crafts, Art Deco, and Post-Modern pieces.
"I'm trying to specialize more now," he said, "concentrate my work in a few areas. I would like to work only in my own styles, but in a money-driven culture it's necessary to consider all projects without bias in order to keep this somewhat 19th-century livelihood going."
Maynard's interest in furnituremaking started at age ten when he built a stool from plans he found in a Boy's Life magazine. At fourteen he built a grandfather clock from a kit. Building these projects introduced Maynard to a hands-on world where his creative talent and intelligence blossomed.
It was working for an antique furniture restoration business, the George Whitmore Company in Middletown, Connecticut, that gave Maynard his foundation of professional woodworking skills. He began by sweeping the floors and stripping furniture, and worked his way up to woodturning and eventually building a piece of furniture. He describes the Whitmores, John and his 75-year-old father, Chauncey, as "good men, real Yankees with strong links to their local history and a willingness to pass on what they knew." They exposed him to some of the finest antiques in New England and sparked his interest in studying period furniture.
"It was their wide-open attitude towards furniture design and construction that was really inspiring," added Maynard. He took apart a Goddard and Townsend lowboy, then cleaned and reassembled it; this was one of the projects he credits with really teaching him how to make furniture. He worked at the Whitmore's shop for two years, and has been working on his own ever since.
Inspired to learn all he could about the history of his craft, Maynard continued to study furniture design and went out of his way to frequent museums and other public collections of furniture. This exposure, motivated also by the diverse demands of customers, was important to Maynard in developing his own style. Arts and Crafts and Japanese furniture, as well as designers Frank Lloyd Wright and Charles Rennie Mackintosh, are influences in what Maynard considers his signature style.
In 1975, Maynard, then 20, travelled to New Hampshire with hopes of living the craftsman's life in the country. His car promptly broke down, and he literally walked in to the remote town of South Acworth where he now makes his home. Starting with essentially no tools, he set about finding old water-powered machines and antique hand tools, and over the course of several years set up a shop and began making furniture on commission.
Maynard married and, with his wife Marcie, bought a house in the village, where they live today with their two daughters. During the 1970's he traveled to Europe twice, and credits the trips with helping to broaden his viewpoint, even acknowledging Stonehenge as an influence in some of his designs. But rural New Hampshire remains home.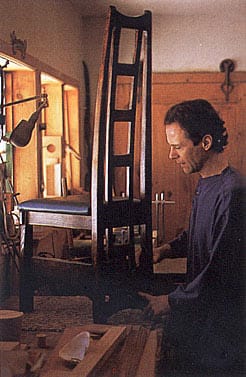 "I love the small town life," Maynard said. "I wish they had a little bistro on the corner, but for the most part I live fine. I love city life, but the rural setting suits me."
In the mid-1980's, he and Marcie built an 850-square-foot shop onto the back of their house, with a full second floor loft for wood storage. The loft and a lumber shed across the road from the shop allow Maynard to buy logs locally and have them sawn to his specifications, one of the benefits of living in rural New Hampshire. In the shed he has a pile of quartersawn red oak boards, some up to 26" wide, along with a supply of walnut, cherry, curly maple, and mahogany.
"I try to have it sawn out in matched patterns," Maynard said. "I want to get that enhanced grain effect in my work. I've got about five thousand feet of sawn-out hardwoods. I've built a Connecticut River Valley bonnet top secretary desk all out of one large cherry log. If you want to make a cherry table top out of two book-matched 16"-wide boards, how are you going to get that unless you saw out your own lumber?"
In his home office Maynard has a large drafting table he built, and it represents a side of his business that he finds both very fulfilling and at times a little frustrating. Like many craftsmen who design and build, he knows clients often don't realize the extent of the design process. Maynard says he may at first do as many as five possible designs for a particular project, and then continue at the drafting board, perfecting the one the customer has chosen.
His broad understanding of styles helps Maynard give his clients the furniture they're looking for. One client, Emily Grant of Long Island, New York, calls him "a treasure." "He practically furnished my new house," Grant said. "He has an in-depth knowledge of historical design and technical design, and it was wonderful to see him take all these ideas I had in my mind and turn them into real pieces. There's a little of Peter Maynard in just about every room of my house."
Other clients spoke highly of Maynard's ability to translate their often not-too-concrete ideas about what they wanted into furniture they love.
"His furniture is excellent and he works with you quite well," notes Tracy Zaffino, a client from Dallas, Texas, who once had Maynard watch a movie video to get the feel for the sort of piece he wanted built.
"He takes you from a broad feeling or idea and keeps narrowing you down. He works with drawings, putting the ideas down on paper, and I'm amazed when I get them and see he's been able to capture what I want in a design."
The whole process has given him some definite ideas about how clients should treat the craftsmen they hire. He notes, "They need to respect that that person has chosen a life of craft at the expense of making a lot of money, and needs to be supported through a challenging process."
Peter Maynard is quick to point out that the company is called Maynard and Maynard Furnituremakers, and greatly appreciates that his wife has taken on more and more of the customer relations and sales end of the business. She has the time and patience to handle the initial developing of the client relationship, allowin her husband to focus on designing and building the furniture.
"I've got a situation that most other woodworkers wish they had," he says, laughing. "Marcie is very affable and shows no impatience at all. There's a lot of need to build trust in this process, and the burden of trust is on us."
Maynard's client Tracy Zaffino agrees with the need for carefully developing the client/craftsman relationship. "I just love the whole process," Zaffino said, "but especially that moment when you get the piece shipped to you and you first get to see it. Then you realize you've got some- thing special for a lifetime."
That's a moment Maynard also loves and looks forward to. In the world of furnituremaking-part business, part art, and by turns both fulfilling and frustrating-Peter Maynard has evolved a passionate approach to his craft that has kept it both exciting and vital for him.
Robert Smith is a freelance writer living in Bellows Falls, Vermont.

Featured on the Stickley Museum web blog: "Through the Eyes of a Master Furniture Maker."
Through the Eyes of a Master Furniture Maker
Want to find out how the Arts & Crafts movement inspires craftsmanship today? Join us on October 15 when Master Craftsman Peter Maynard will present "Blazing New Trails: Discovering Pathways to New Arts & Crafts Horizons Through the Eyes of a Master Furniture Maker" as part of our Forging Ahead Forum.
For 35 years Peter Maynard of Cold River Furniture has been custom designing and building fine handcrafted furniture for clients nationwide. His complete line of Arts and Crafts furniture seeks to create an indelible American style inspired by the vast North American landscape. He has been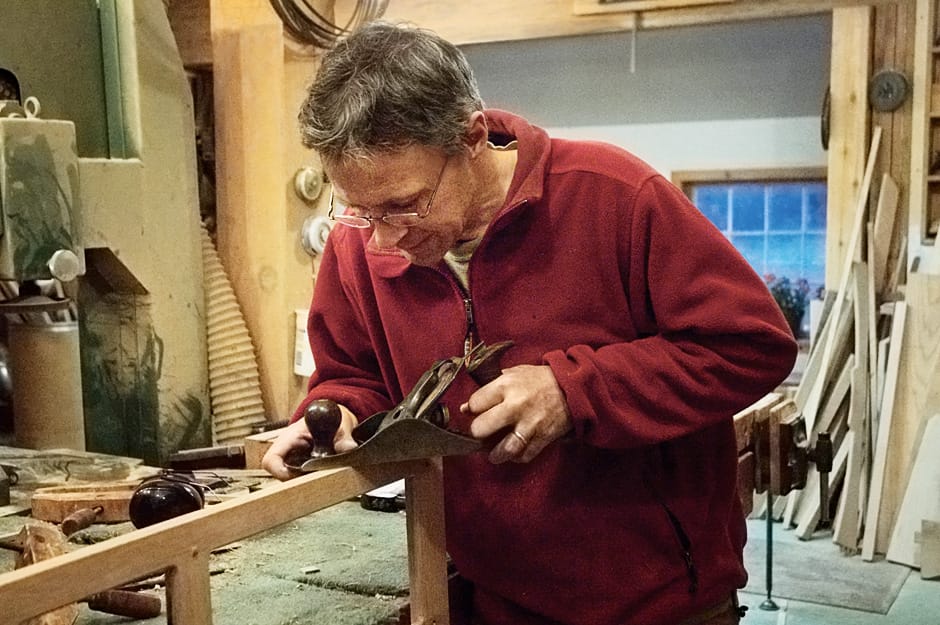 commissioned by The Metropolitan Museum of Art and his furniture has been featured in The New York Times, Architectural Digest, and American Bungalow. Traditional Home magazine named Peter one of the five best contemporary American furniture makers. He resides with his family in rural New Hampshire.

Featured on Arts & Crafts Collector: "Cold River Furniture — A Closer Look."
Arts and Crafts Collector
Cold River Furniture — A Closer Look
By Alexandra Fisher
As Peter Maynard, owner of Cold River Furniture and woodworker extraordinaire, speaks to me about his business, I can't help but imagine what his workshop looks like. After having one of their best shows ever at this past February's Arts & Crafts Conference I can only picture commissions stacked to the ceiling and wood shavings scattered across the floor.
But forget about the workshop's condition because Peter & Marcie Maynard are kicking off a banner year in the furniture making biz and I had the pleasure of asking them a few questions to get to know a little more about Cold River Furniture and the duo behind the workbench.
Peter started off his career as an apprentice with the George Whitmore Company based out of Connecticut. However, around the age of 22, Peter decided to take his work to the next level and formed his own furniture company. The rest is history. In his earlier entrepreneurial years, he mostly worked on architectural woodworking projects but his real passion was in furniture making, so he set aside his trim tools, picked up his small hand plane and got to work.
"The hewn effect is what makes all the difference.", Peter told me as he described in great detail his approach to furniture making. "The feathered, elliptical edge of this style of furniture can't be found with power tools." "It's all in the handwork." And anyone can see when they run their hands over one of Peter's tables, chairs or the bi-fold display case with handblown leaded glass doors seen below that the attention to detail and design aesthetic is what really sets Cold River Furniture apart from the rest.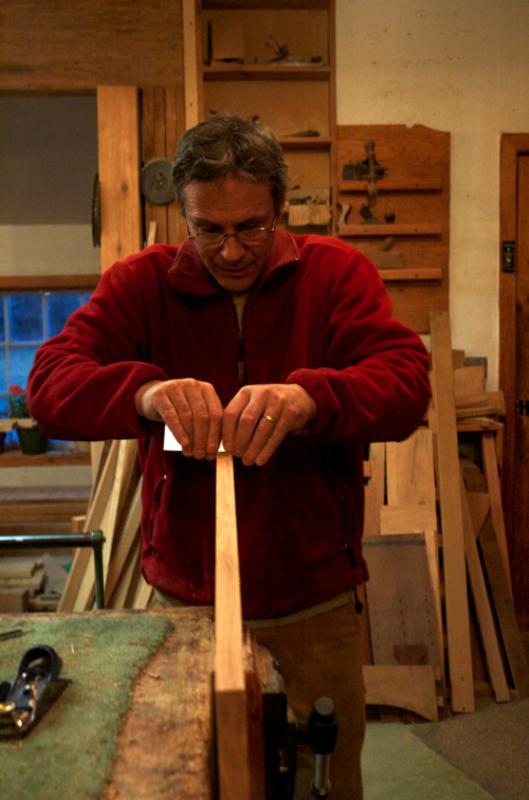 And Peter's incredible balance between design and construction sense can no doubt be attributed to the inspiration he draws from Mackintosh and Limbert. "They both were always looking for new lines in their designs but that still fit in the context of the Arts & Crafts Movement." "[Their pieces] just stop you in your tracks to reflect." And it's this human to furniture interaction that Peter also strives for in all of his work.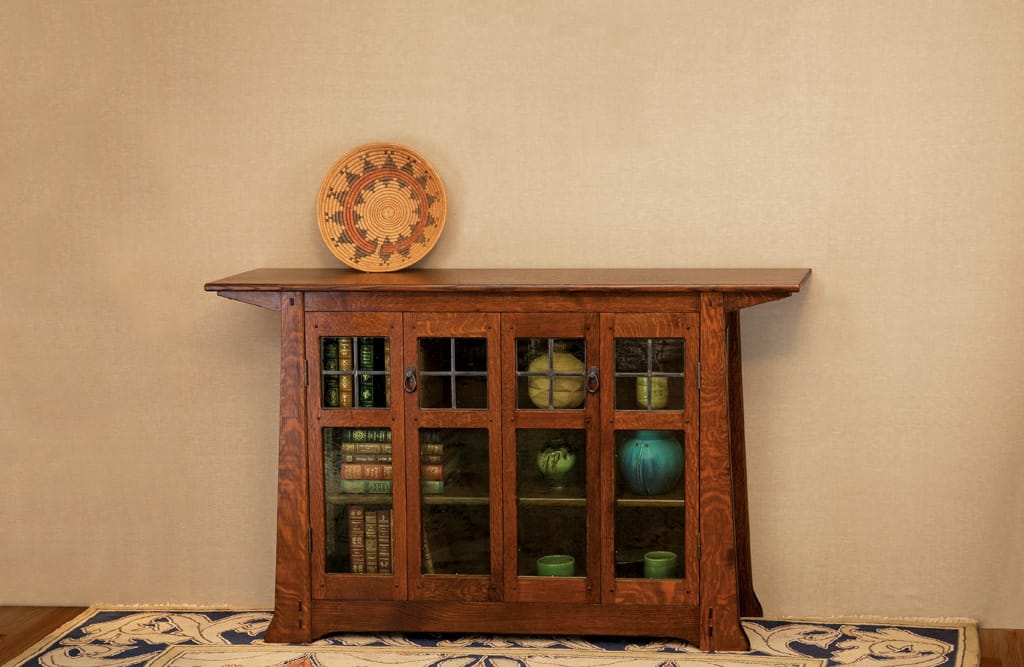 "It's been hard. . . ", Peter and Marcie agree, ". . . being an independent craftsperson — the reality might not quite be the dream but at the end of the day, it's what drives my work." The grind keeps him going and, in the midst of heavy over-seas manufacturing and mass production, there's a lot to be said for sticking with the hustle and getting back to the American made dream.